Today's post is from a lovely reader who is looking for snakeskin flats. She loves her flats and she walks all over the city, so they'll need to stand up in the quality department. Let's see here.
I really like this shoe because the ballet flat softens the sometimes harsh snake pattern.
I love this shoe because of the classy cap toe. It is a four season shoe.
A sassy lipstick red snakeskin is something unexpected!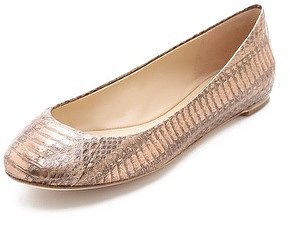 A great leather sole goes a long way if you take care of it. It also is very easy to replace after you've worn through it. No need to buy another pair of shoes, just invest in a good cobbler.
Snakeskin is a pattern that isn't going out of style any time soon. It can truly morph into any style depending on the outfit; sweet, bad ass, sexy, or cute.
Be fabulous today!