Fun fact: I hate Halloween. It is a feeling instilled to me by my mother. I just hate spending money on an outfit you wear once. I'm not really a candy person, so overall, it's not my holiday. But today we're going to look at a way to mix in some orange and black in a non-Halloween way.
How about this stunning pleated color block skirt? It is so fall!
A beautiful bright orange. I love the solid waist and cuff, adds some definition to this busy sweater.
A vertical chevron, how unique. I'd add a skinny belt to this and call it a day. Maybe even the snake necklace from yesterday.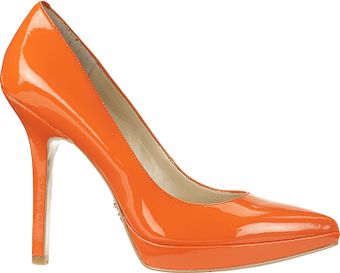 Candy corn chic, no? What a great platform.
Happy Halloween to all of you who enjoy candy, dressing up and running around in the cold. I will be drinking some red wine on my couch in my sweats.
Be fabulous today!