You know what trend I'm loving this season? Tuxedo pants for everyday. What a fabulous way to dress up any outfit. Take a look at these beauties.
A beautiful plum cropped pant with a great tux stripe.
You want sexy? Oh I'll give you sexy. This slim tux pant paired with a metallic peplum.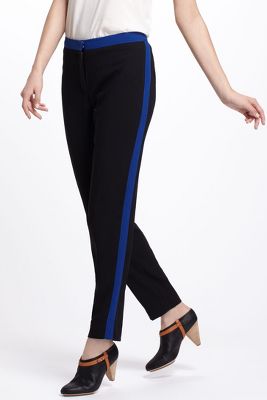 Leave it to Anthro to pull off a black and blue mix of pure perfection. I love the continuation of the blue on the waistline.
Ok, these are my pick. A fantastic faux leather stripe mixes black tie and edgy and the vertical pocket, just the icing on the cake people.
Would you wear tuxedo pants to work or are they for going out only? I love the great fit of these pants, a nice slim cut that shows off the legs.
Be fabulous today!