You can wear colors, patterns, peplums, or minis. You can follow the trends, or stay preppy, or rocker, or boho. But you know the sure-fire way to step up the sexy? Zippers. That's right. I have no idea why, but its just the way it is. Take a look at these zipper detail dresses and you'll see what I mean.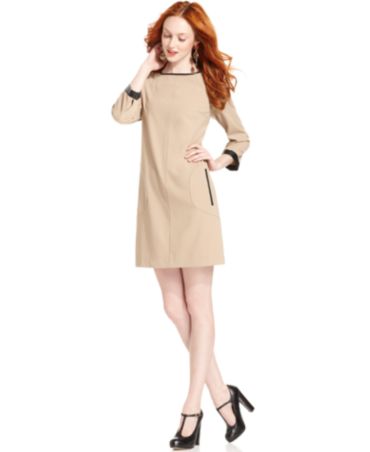 Some faux leather trim, vertical zipper pockets and an exposed zipper up the back. Give me some black tights and let's wear this all fall.
A great asymmetrical neckline and the full length zipper. Oh not to mention the cobalt!
Yes, even a shirtdress can be sexy. These roll tab sleeves, the great gold zipper detail, it's perfect for a fall afternoon.
So on sale it's not even funny. A fantastic LBD.
So did I tell you? Zippers man. I don't know what they do and how they do it, but they just step up the sass.