Hey there lovebugs, happy Monday to you. I hope you had a great weekend. It's my first full week back to work and I hope it just flies by!
Here at TCB we only look at items under $100 and sometimes even spending that much is a lot. So today I want to look at pieces that do double-duty. Like an embellished collar. So much perk on such a small part of the top. Suddenly a standard oxford is dressed up or a dress now has an added element of sweet. Let me explain...
What I love about this top is sequins usually mean dressy, this simple peter pan collar makes this blouse easier to wear for everyday!
This picture isn't the best but this sequin collar is so quiet and sexy. I'd pair this with black jeans and pumps.
Oh hey adorable! Look at this sweet dress. Wear this to a party, because when (when not if) he watches you walk away, BAM! It's an open back dress.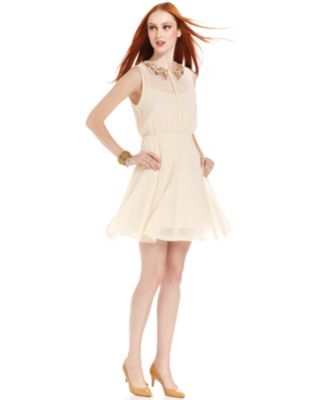 You know why I love this dress? You can put a pencil skirt over it and it works as a fantastic blouse. Double duty.
Embellishment is easy to do with jewelry or other accessories, but an embellished collar is simple, easy and built in!
Be fabulous today!