Happy almost Friday lovebugs! Are we so excited for this weekend? I am. Bring it on Inauguration. I plan to hunker down in my apartment, turn on my former employer, CNN, and enjoy history. But until then, let's look at some lace. Lace is usually connected with ladylike items and delicate things. But when you add the word red to lace all of the sudden it gets hot. Steamy. How can you wear this during the day? Why I'm so glad you asked!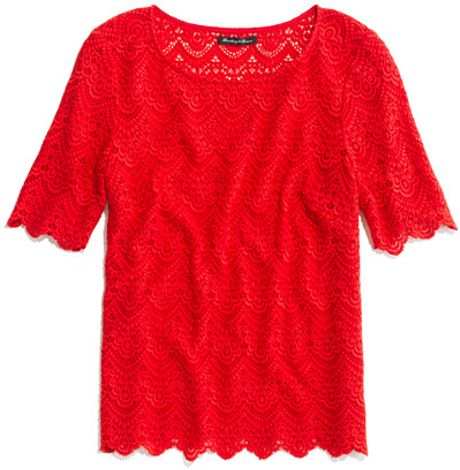 Madewell,
Scallop Lace Top
, $84
This is perfect for work or play, I love how the scallop detail is not only on the hem but also the sleeves.
Victoria's Secret,
Lace Trim Pencil Skirt,
$69
This peek-a-boo lace is ok for the office with the right shoes. No come hither heels with this skirt, keep it classy.
Forever 21,
Lace Panel 3/4 Length Sleeve Top
, $13
This beautiful top is $13. Thirteen dollars. Just yes.
Dorothy Perkins,
Red Lace Dress
, $55
I think I would lose the ribbon and add a patent skinny belt to make this more mature.
Red lace doesn't have to be Valentine's Day sexy. Wear it during the day with items like these!
Be fabulous today!