Happy Monday lovebugs,
I'm back from a lovely week long vacation, (didn't even know I was gone, did you?!) and it was great to unwind, relax and get some good reading in!
I'm still feeling a bit sunny from vacay, so today I thought we'd look at some sunny yellow pieces.
These ombre beauties are perfect to add a little bit of sunshine by your face.
Perfect little yellow ankle pants. Pair with a crisp navy blouse.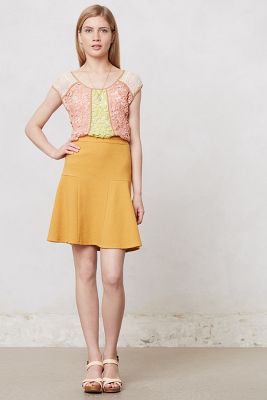 The reason I chose this more expensive skirt is because its a four season item. Pair with chocolate brown boots in the fall, tights in the winter and then lighten it up with tops in spring and summer.
How easy breezy is this top? Bright yellow, sweet apple print. Just adorable.
So there's my sunny outlook for today. Do you wear yellow often? What are your favorite color pairings
Be fabulous today!