Hey there lovebugs,
As spring tries to inch it's way into our lives, we can start to put away the wool and start to test out the silk. Today, I'm talking about scarves. I just love a silk scarf for workwear because it adds something much more than a necklace ever could. Let's take a look at some not full-blown-spring but rather appropriate in between silk scarves.
The versatility of this pattern really makes the price worth it. You can use this around you neck, tied to your purse, in your hair or popping out of a blazer breast pocket.
A beautiful pop of chevron for right now is just perfect in any color. This comes in pink, blue, orange and black.
How about this for a neutral? So chic.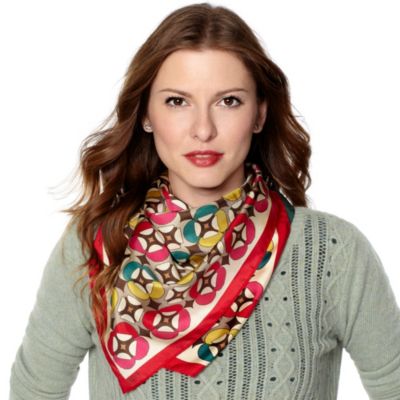 How about the vintage quality and pattern of this scarf, it would go beautifully with so many colors.
I love a great silk scarf for work because it's a fabulous way to dress up a plain oxford or a tired cable knit.
Be fabulous today!