IT'S HAPPENING!!!! (Bridesmaid reference, if you didn't get it, go rent it immediately).
For those ladies who will be taking one for the team this spring or summer and standing up there next to the bride, this one is for you. I have a reader and friend who needs two dresses, one navy blue and one black and she wanted a one shoulder. Let's see what I found.
This lightweight dress would be perfect for an outdoor wedding and easy to add any accent colors to accessorize.
The banding of the chiffon on the bodice is just beautiful, you could even add a skinny belt around the waist for a little extra pop of color.
Oh my gosh I LOVE this dress. Forget the wedding, I want to wear this now! The silk, the one shoulder, it also comes in dark navy.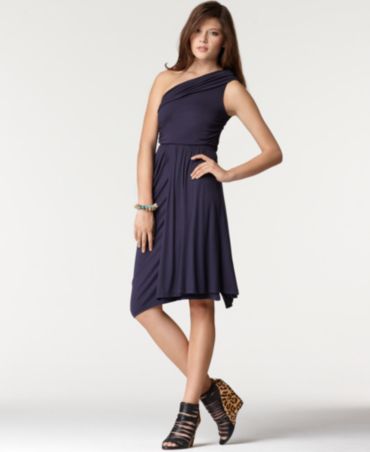 The length on this dress is great for a wedding, not mini, not tea length, just great.
Navy and black isn't always the most fun color dress to shop for, but don't worry, the bride might be open to a hot pink heeled sandal, or a skinny glitter belt. Have some fun with it! And don't be limited to bridal shops, look at your normal stores and find a great tailor in your area!
Be fabulous today!