The drop waist trend seems like it's everywhere right now; but how do you wear when you're not walking the red carpet? Let's look at some great options for right now when E! isn't knocking on your door.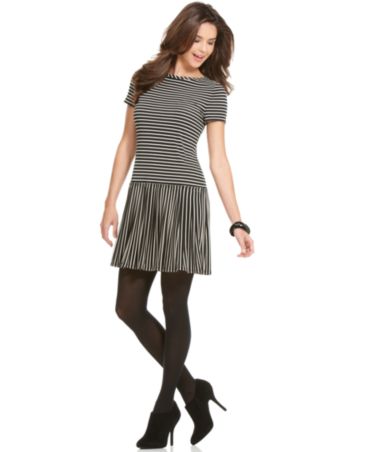 I love the change in stripe direction on the waist and the short sleeves. I'd add a neon bauble necklace for a great pop of color.
Anyone else think this model looks like she's about to be attacked? Just me? Ok. Let's look past that. Great jersey material dress that's just screaming for sky high heels and a night out.
Stay with me on this one; I'd unbutton at least four buttons and wear a great detailed lace cami underneath to break up the color. Maybe a straw floppy "Kentucky Derby-esque" hat.
A simple chic silk shift. Fantastic color.
I think the biggest advice to wearing a drop waist dress is trying it on first. Each dart and line runs differently and you really need to see it on and not online to decide if its right for you.
Be fabulous today!