Happy Monday lovebugs! I hope you had a wonderful weekend. I don't know how the weather is around you but here in DC it is stunning. You can walk to work and not be in a full sweat by the time you get the office. You can even layer on, dare I say it? A cardigan! Today we're taking a looking at some fantastic graphic cardigans that are perfect to wear right now.
How about this fantastic zig zag pattern, perfect for work or play.
Hello prep central! I love this shawl collar cardi. Wear it open and belt it or button up and head out!
So while I'd love to post a Kate Spade cardigan on here given that they are rocking the dots this fall, it's not exactly in the budget, so how about this fantastic blurred spot cardigan from Loft? It comes in two colors.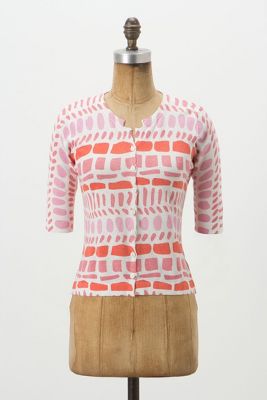 Obsessed with this 50s inspired cardigan. The colors are so cheery and the extended short sleeve is perfect for fall!
Cardigans are one of my all time favorite items to have in my closet because they work for everything. You will see a lot of them on TCB this fall and winter. Graphic cardigans are a great way to mix in some patterned interest to your outfit.
Be fabulous today!