I love to wear a pencil skirt to work because it comes in so many colors and you can match with essentially anything. Right now, patterned pencil skirts are very popular and just like patterned shorts and crop pants, this is going to be huge.
Does this skirt scream spring or what? I would love to add an unexpected color on top like a silk khaki colored shirt or maybe a nice jewel tone.
Who doesn't need a ready to wear to work pencil skirt for UNDER $20?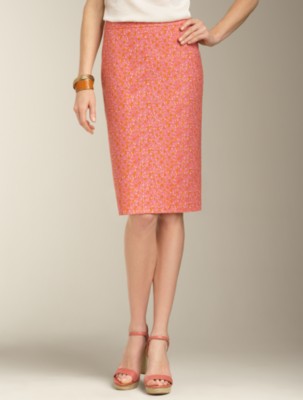 The mix of pink and orange petals is just beautiful in this micro-print.
I love the big print on this skirt, it's graphic and fun and great to spice up your 9 to 5.
Are you wearing brights, patterns or both this spring? How do you style your pencil skirt?
Be fabulous today!